Institute of Geography
and Regional Development
pl. Uniwersytecki 1,
50-137 Wrocław
tel. +48 71 375 22 44
fax. +48 71 343 51 84
sekretariat.igrr@uwr.edu.pl
Nothing brings people together like good food! Because a lot can happen over a platter of a lavish meal. Living in a city as vivid and diverse as Wrocław has certain perks. Speaking from a foodie's perspective, there are a bunch of multi-cuisine restaurants in Wrocław to dine in. You can be confident that the food scene is pretty much sorted in the southwestern Polish city.
As you stroll about the Rynek region, you will walk past some fairly chic Wrocław restaurants offering exclusive food menus serving a range of delectable cuisines from different corners of the world. From typical Polish restaurants to neo-bistros with a range of high-class gourmet food options to the lesser-known eateries hidden in the narrow bylanes of the Main Market, restaurants in Wrocław never cease to amaze you.
Here are some of the restaurants in Wrocław which must be on top of the list of every food enthusiast!
---
1. India Concept
If you're planning to visit one of the top Indian restaurants in Poland, try India Concept on the Wrocław Main Square. They have some of the most authentic Indian food on their menu, all favoured and prepared in the traditional style,
Google rating: 4.6/5
Known for: Indian cuisine
Where: Kiełbaśnicza 7A, 50-108 Wrocław
Website | Facebook | Instagram
Hours: Wednesday - Saturday: 12 - 10 pm, Sunday - Tuesday: 12 - 9 pm
Price range: Moderate-high
Highlights:
Tasteful interiors

Ideal location for a dinner date

The food presentation is terrific. More like an art form with all the salad and sauce garnishing

They even have typical Indian beer and wine on their menu

Coconut mango lassi is a must-try
---
2. Ragu Pracownia Makaronu
If you're craving some delectable Italian cuisine in Wrocław, sharp in taste and with a distinctive aroma, Ragu Pracownia Makaronu is the place to be. The eatery specialises in an artsy culinary experience, Classic, amazing, and extremely tasty. The food quality here is on a different level altogether. Be informed that for the desired taste you have to wait (it's totally worth it)!
Google rating: 4.4/5
Known for: Italian cuisine
Where: Sienkiewicza 34A, 50-335 Wrocław
Website | Facebook | Instagram
Hours: 12 - 10 pm (all days)
Price range: Moderate
Highlights:
They specialise in serving their own freshly prepared pasta and the original stuffing

They produce several dozen kilograms of pasta, gnocchi, ravioli, tortellini and several shapes of pastes and dumplings on a daily basis

Moody interiors

Burrata salad and the truffle gnocchi are a must-try
---
3. YuME Sushi
Undoubtedly the first choice when it comes to recommending a sushi place in Wrocław. YuME Sushi's location on Pomorska makes it quite hidden from the city crowd even after being located in the centre area.
Google rating: 4.4/5
Known for: Japanese cuisine
Where: Pomorska 40, 50-219 Wrocław
Hours: 12 - 9 pm (all days)
Price range: Moderate
Highlights:
YuME Sushi surprises you with tasteful interiors and fancy dinnerware

As befits a Japanese restaurant, while sitting at the bar you can even see your meal being prepared.

Go for the combination of Almond Roll with Teriyaki sauce and have a sip of Japanese cherry tea.
---
4. PAMPA
If you plan to discover the epicentre of the best empanadas madness in the city, you must visit PAMPA. Acclaimed for serving the best Argentinian food in Wrocław, PAMPA is a class apart that makes you feel like you're tasting the empanadas in Argentina itself. The restaurant is named after the regional grasslands in the South American country. The cosiness in the space and warm atmosphere inside is enough to explain that your food was prepared with utmost care. Go for it!
Google rating: 4.9/5
Known for: Argentinian cuisine
Where: Podwale 19/1A, 50-043 Wrocław
Website | Facebook | Instagram
Hours: Tuesday - Sunday: 1 - 8 pm, Mondays closed
Price range: Moderate
Highlights:
The menu mainly consists of baked empanadas - hand-made dumplings from South America

Chic interiors, nice atmosphere

Great service, friendly and talkative staff always tending to your curiosity
---
5. Panczo Śniadaniownia
As far as restaurants in Wrocław go, this one is definitely the top choice for every fan of quesadillas and tacos out there. Hip and vibrant venue located in the city centre, this place replicates the tastebuds straight from Mexico City.
Google rating: 4.5/5
Known for: Mexican cuisine, vegan menu
Where: Wita Stwosza 13, 50-148 Wrocław
Website | Facebook | Instagram
Hours: Monday - Thursday: 12 - 10 pm,
Price range: Moderate
Highlights:
Specialises in Mexican fare such as tacos & burritos, tequila & margaritas

Panczo spoils you with varieties of meat but has never once forgotten to include alternatives for its vegan customers
---
6. Chiński Wiatr
Chiński Wiatr distinguishes itself from other Chinese restaurants with its carefully chosen and prepared menu. This place is a foodie's delight and probably the top place to find the best Chinese food in Wrocław.
Google rating: 4.4/5
Known for: Chinese cuisine
Where: Generała Romualda Traugutta 104, 50-420 Wrocław
Hours: 12 - 9 pm (all days)
Price range: Moderate
Highlights:
Arty interiors

Big food portions

Authentic and traditional way to prepare the Chinese dishes

Totally value for money
---
7. STÓŁ na Szwedzkiej
For a gourmet food experience in Wrocław, STÓŁ na Szwedzkiej is highly recommended! A unique restaurant in Wrocław for experiential foodies, this place is one of its kind. The chefs here don't go by a specific set of menus, rather they come to your table straight up and allow you to choose your dish and ingredients. Eventually, you can indulge in the cooking experience and watch your food being prepared up close, more like a culinary tour. STÓŁ na Szwedzkiej is located in the Wrocław city outskirts, which means it's a 35-40 min drive from the city centre.
Depending on the courses of meal and food preferences, you pay the package price, which is nowhere close to cheap or even moderately priced. It is an expensive restaurant in Wrocław!
The owner emphasises meeting people and hearing new ideas, which would eventually help him develop his skills. The chefs here insist on creating unforgettable experiences every day, making this place one of its kind. As an acclaimed chef in Poland, the owner invites top chefs in Poland from time to time. Their uniqueness makes them one of the best Polish restaurants in Wrocław.
Google rating: 4.8/5
Known for: Experiential food tours
Where: Szwedzka 17A, 54-401 Wrocław
Website | Facebook | Instagram
Hours: Tuesday - Friday: 2- 8 pm, Saturday: 12 - 8 pm, Sunday - Monday: Closed
Price range: High
Highlights:
Recommended to make a booking in advance because finding a place spontaneously looks highly uncertain

Choices ranging from fancy seafood to deer meat to beef or lamb

Highly personalised experience

The chef talks you through the process and explains to you the entire process and in-depth about the recipe and ingredients
---
8. Bez Lukru
Bez Lukru is a top vegan restaurant in Wrocław and totally worth a visit for other hot items on the menu like vegan pancakes and plant-based burgers, prepared with high standards. Consider it a great option to go for a coffee date in Wrocław.
Google rating: 4.6/6
Known for: Best vegan options
Where: Igielna 14, 50-117 Wrocław
Hours: Monday - Thursday: 10 am - 9:30 pm, Friday: 10 am - 10 pm, Saturday: 9 am - 10 pm, Sunday: 9 am - 9:30 pm
Price range: Moderate
Highlights:
A paradise for gluten-free and vegan food seekers

Nice and cosy atmosphere

Great breakfast menu

Pretty green and uplifting interiors with all the plants around
---
9. Niewinni Czarodzieje 2.0
Niewinni Czarodzieje 2.0 is another gourmet food restaurant in Wrocław by a top chef in Poland, with one restaurant in Warsaw and another in Wrocław. It is advised to make a pre-booking here before going. They have extensive menu options from tuna steak to salmon combinations to octopus. The flavour combinations served by them are exceptional and worth trying. Price-wise, it's expensive but worth every penny spent. That said, it is a top Wrocław restaurant totally worth a visit!
Google rating: 4.4/5
Known for: Seafood, and other meat-based dishes
Where: Sukiennice 7, 50-107 Wrocław
Website | Facebook | Instagram
Hours: Monday - Thursaday: 12 pm - 12 am, Friday - Saturday: 12 pm - 1 am, Sunday: 12 - 11 pm
Price range: High
Highlights:
Great meat quality and diverse options

Quite a bit of vegan options to satiate your tastebuds

Professional staff, cocktail makers, to explain to you the menu in detail like the compositions. They also give amazing recommendations that will leave you positively surprised

Excellent interiors

A romantic corner for lovebirds where you can enjoy your privacy while having your meal
---
10. Kurna Chata
Kurna Chata is a modest cosy place hidden in the busy bylanes of the Wrocław city centre. If you're looking for the best Polish restaurants in Wrocław serving regional dishes, this place won't disappoint you. They have a delightful food menu to leave you surprised.
Google rating: 4.1/5
Known for: Polish
Where: Malarska 25, 50-113 Wrocław
Hours: Monday - Thursday: 12 - 10 pm, Friday - Sunday: 9 am - 10 pm
Price range: Low - moderate
Highlights:
Several varieties of pierogies to choose from

Quick service, ideal for a short break between lectures or if you want to have a quick bite

Homestyle local delicacies like pierogis & potato pancakes,

They have a terrace as well. Check in advance for booking a space

Rustic interiors
---
These are the 10 best Wrocław restaurants that every foodie must go for. If you have tried some of the aforementioned and have some experience to share, let us know! If you think there's a restaurant that must be on the list, do let us know through our social media or comments.
Should you have any queries related to the Tourism & Hospitality studies at the University of Wrocław or you need general information about the city, please write to us on social media - Facebook, Instagram, or contact us via email.
Further read: Cheapest Places In Wrocław For Students To Drink & Eat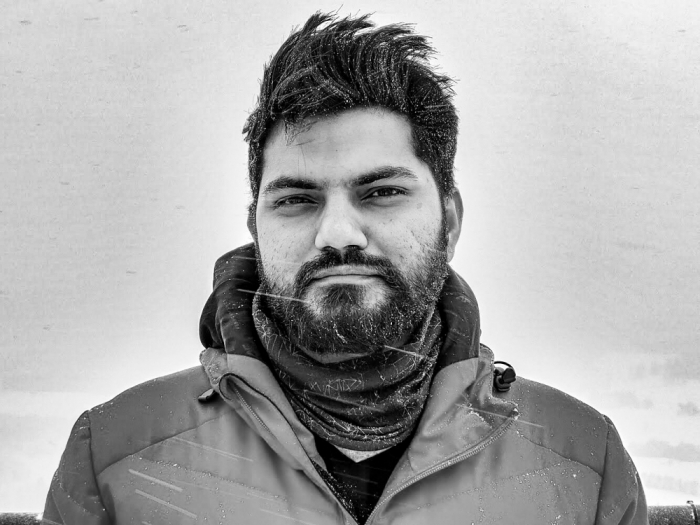 Amit Chandra
Amit is a travel writer & founder of the blog Whistling Hound. A perpetual nature lover, Amit moved to Wrocław, Poland, three years ago. Ever since, he has been gallivanting around European countries, soaking up the best of places & sharing his experiences across digital media. From working as an Aurora Guide in Lapland to walking the streets of Naples & Rome like a local, Amit has done it all. Currently, he's treading through the best of southwestern Poland & is not stopping anytime soon!